CHOOSE YOUR SPECIES TO ADOPT
You can adopt baby fragments from these coral species, for you or your loved ones, to help us grow our gardens and recreate a diverse and resilient reef.
HOW DOES THE ADOPTION WORK?
It all starts with a baby coral fragment. Your adoption will enable us to collect a fragment from a resilient coral species in the lagoon and place it in our nursery, where it will grow big and strong. After a little over a year, your matured coral will be outplanted onto the natural reef to bring back life and biodiversity to the ocean.
01. Adopt

Choose your favorite coral species and the number of fragments to adopt.

02. Personalize

Name your coral and receive a displayable digital card straight to your inbox.

03. Track

Follow the journey of your coral and receive updates until it's transplanted.

04. Plant

We grow your coral in a nursery and, once mature, outplant it onto the reef.
YOU WILL RECEIVE
Digital coral card
Right after your adoption, you will receive a displayable card with the photo of your coral as your pledge to ocean conservation. The high-resolution card can be printed locally to lessen your carbon footprint.
Email updates
You will receive news of your coral according to its journey, from adoption to planting, along with real-time updates from our crew to learn more about how our gardens are doing.
ADOPT AT SCALE
If you have the capacity to adopt corals at scale, you can sponsor entire ropes, tables or even nursery sites.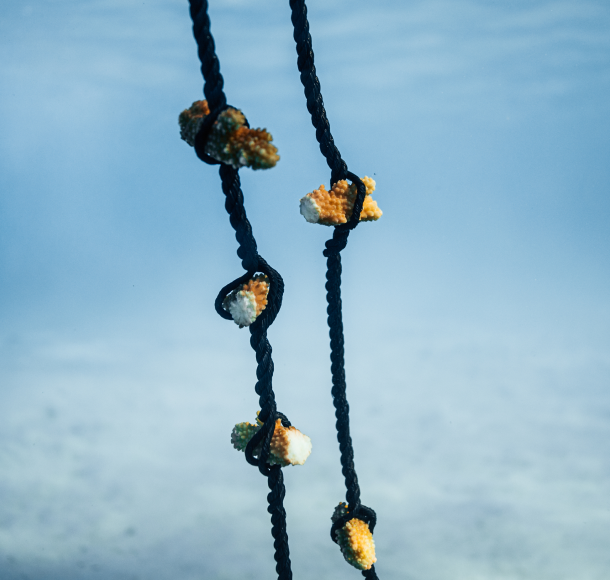 Small fragments are collected from climate-resilient coral colonies, tied onto ropes and placed in our nurseries. Each rope can hold up to 30 corals of the same species that will grow together.
CORAL ROPES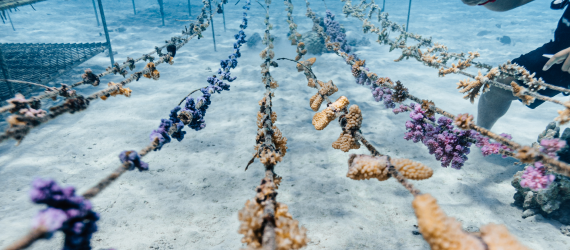 Coral ropes are attached to table structures laying out our nurseries. Each table grows more than 250 diverse and resilient species of corals, recreating the foundation of a reef ecosystem.
CORAL TABLES
Special thanks from a Parrothead
Special thanks for this amazing gift to Mother Ocean. As we mourn the loss of our dear friend Jimmy Buffett. Jimmy's legacy of songwriting with Mac McAnally will live on forever. It was just a week or so back when I reached out to you and Kenny to join forces with #CoralGardeners to save the Florida reef. Mother Mother Ocean I have heard your call campaign will move forward. Jimmy, rest in peace, my friend. OSINTelligent group will be adopting a coral farm section in your honor.
Mauruuru roa!! Much gratitude
Thank you for this much needed and beautiful initiative, to preserve and save our ancestral oceans, lands and thereby contributing into bettering the planet as a whole.
Never underestimate a small gesture or action, it can cgcxfbe life altering.. so it is.
Mauruuru Roa brothers & sisters of the Coral Garderners crew!!
- Kevin Tunui Tuhipua
Utrecht the Netherlands
VISITE
Merci beaucoup pour votre accueil lors de notre visite
De retour en France, nous expliquons votre action autour de nous
encore bravo à tous pour votre implication pour la sauvegarde des coraux
vous n'êtes pas seuls, nous relayons votre action. Nous avons besoin de gens comme vous pour notre planète et si chacun à sa propre échelle pouvait réfléchir à une petite action, la terre ne pourrait que se portait mieux. A très vite, nous vous suivons.
Amazing Cause, Brilliant Idea
I'm so happy someone came up with this organization. This is a very important cause and allows people to feel they can make a real impact on our oceans. Very happy customer !
Merci et Bravo!
Je viens d'adopter des coraux au nom de mes nièces pour leur anniversaire (4 et 2 ans)!
Elles habitent en bord de mer et je vais pouvoir leur expliquer vos actions!
Nous suivrons l'évolution avec plaisir!
Merci pour cette initiative et bravo!